Please note that this article contains affiliate links, read disclosures here.
---
Are you working towards your first 100k or are you filling in the gaps until your first million? This is meant to be a motivation post for those people seeking to make it happen!
---
I'm a natural saver.
Slow and methodical, I was throwing money into low-interest bearing accounts to collect pennies.
Eventually, the investing part came into play.
This is where the tide started to turn.
It's not a science, but I finally figured out the power of investing outside of my 401k.
This was well after I had reached the first 100k.
Once the snowball was large enough to bring me back dividends and capital gains that were sizeable enough to take notice, I was all hands on deck.
This meant working the 9-5 to bring in the cash.
Then, adding to the funds that would grow my money over the long-term.
My household did this like clockwork until I lost my job.
Living on a Teacher and Accountant salary in the Southwest region of the USA, the 5-year average was ~$100k. Of course, this was prior to the job loss.
My husband and I were a dual-income household for 11+ years – starting in our early 20's.
Once we grew into our careers, one salary paid the month-to-month bills, while the other salary was applied to saving, investing, and one-off expenses.
Here in the Southwest, it's super possible to live on one income – and do it well.
No coupons, no inheritances, no funny business.
Sure, I can't eat my favorite sushi meal every night, but hey, wouldn't that get boring?

---
The Next 100k Milestone
This happened a week into October of 2017.
For clarification purposes, I count milestones by 100k increases.
This allows the event to likely only come once a year.
With my prolonged work absence, I wasn't sure that a milestone would occur in 2017.
As the months progressed, as an investor, I gathered that it was going to be a record-breaking year in terms of the markets.
It was really gratifying considering I didn't have a full-time job in 2017.
The blocks that had been built in the prior years was working its magic – even without significant contributions. 
Take a look at what 2017 contributions looked like.
(It might be worth noting that this shows 2017 only. I don't hit 100k increases at the same time each fiscal year, so that's why the total increase is ~$80k, and not $100k)
Take notice that I only contributed ~$9,500 during 2017. 
Of course, as I noted earlier, it was a record-breaking year with epic returns.
aka, this is NOT normal.
Therefore, it's going to take more 9-5 funding and investing to get to that point that growth throws off a living wage consistently.
Of course, without running out of money.
What's Included in My Net Worth Calculation
I include almost everything.
I'm counting market investments and savings.
I'm not including a State pension, home equity, and mortgage liability. It may go without saying but I don't include the value of my cars either.
Here are some reasons why:
The pension is not in our possession.
Since I'm not able to decide how that money is invested, currently it sits in the State's investments as part of a workplace retirement savings plan. It includes monthly fixed contributions taken from each paycheck.
There is a vested option at 5-years, and that has already been met.
The plan is that once my husband leaves his employer, the funds plus applicable interest will be rolled into an IRA to be invested at that point.
Once this occurs, I will begin counting this asset toward net worth, resulting in a one-time jump.
The home equity is not included because I cannot readily liquidate it for cash.
Furthermore, I have to live somewhere so this provides a buffer for when it's time to sell and use the equity for either a down payment on a new home or rent.
Additionally, I don't include the liability as a reduction in net worth either.
Long story short, I like to keep my home separate in the calculations because it makes it much clearer for me on what I actually have to work with in terms of retirement assets. This is a personal preference.
Lastly, my mortgage balance is my only recurring liability, so other than credit card balances that get paid in full each month, I don't have any other debt to consider in this net worth calculation.
Please note the net worth purists will say that I am calculating my net worth incorrectly. I am sharing how I approach it.
---
What We Did To Celebrate
I mentioned in a previous article, the importance of setting goals in order to meet short-term and long-term objectives.
I also concluded that one of the first things to do when goals were achieved, or in this case with 100k milestones, would be to celebrate!
So, in honor of hitting the next 100k, my husband and I celebrated – a tad bit early.
Related article: Set Goals The Right Way And Succeed Every Time
No, we didn't have a party or go wild, but I do think it is important to recognize the accomplishment for what it is.
This meant a low-key dining experience. Not sushi this time.
Timeline On Hitting The Next 100k
I have been an investor since 2007, and during that time I have experienced the ups and downs of the market.
Here's what I DON'T DO:
time the market
invest in a speculative manner
pay exorbitant fees
sell low in a down market
make decisions based on fads
---
I plan on hitting the next 100k how I have done it in the past.
Invest in low-fee index funds and do it with the amount of cash I have available.
Also, considering cash that I am comfortable parting with for a while.
The reason I note this last part is due to the fact that I am a buy and hold investor.
I'm not in the market for 1, 2, 3, 4, 5 years to save up for a car or a down payment. I'm invested in the stock market until I need the money for retirement purposes.
That being said, depending on the market and contributions, the plan is to hit the next 100k by November 2018.
This applies a conservative growth rate along with finding my next full-time position. Once I am gainfully employed, I am applying a large chunk to investments, just as I did before.
---
• DISCOVER •
PERSONAL CAPITAL
Looking for a financial tool to manage your finances? Check out Personal Capital. I have used it for a number of years and it is one of my go-to's. Learn more about it by reading my article here.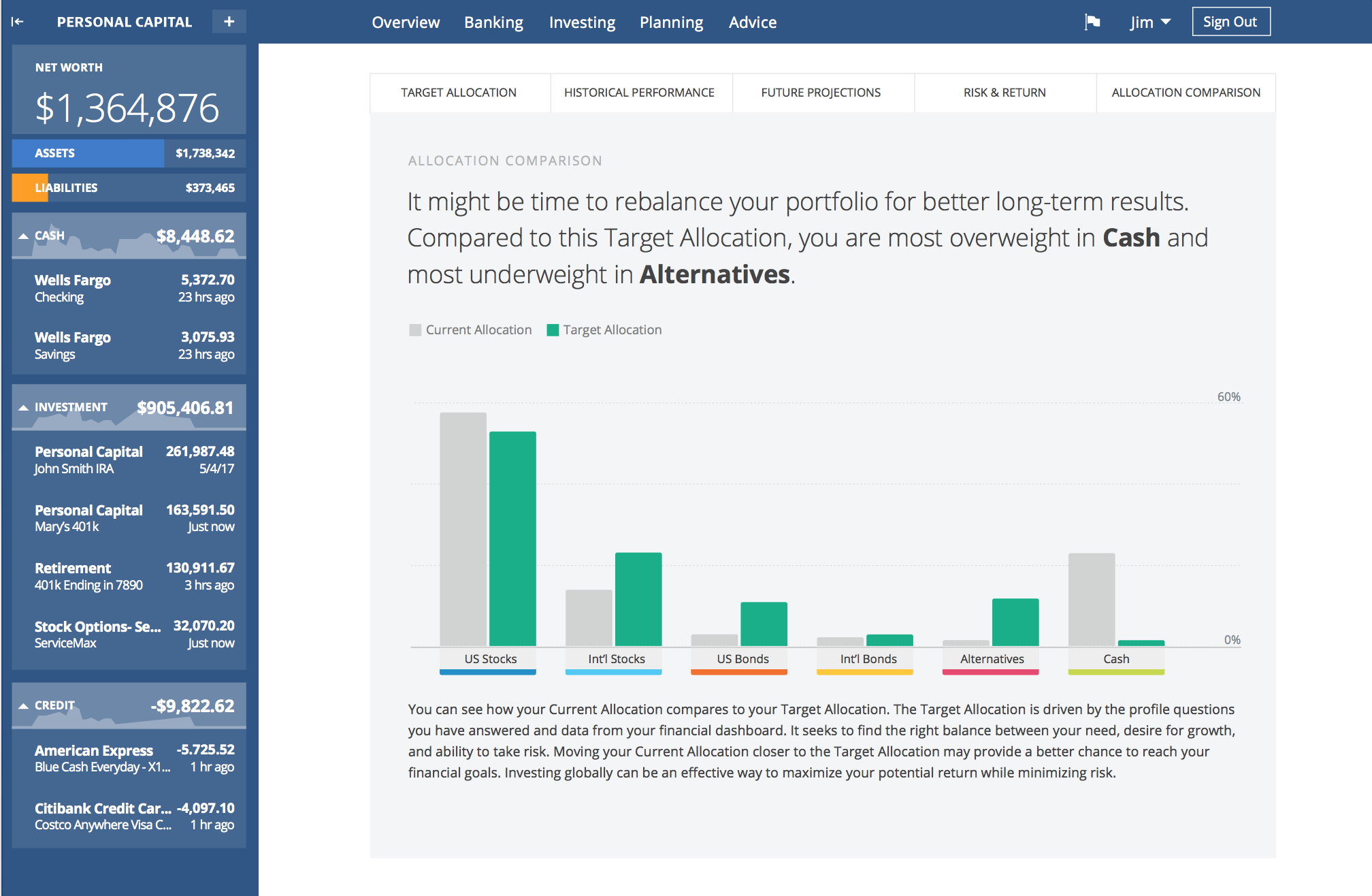 Try Personal Capital for your investment tracking needs
---
Related articles: 
---

---
The Future Is As Bright As You Make It
For anyone out there that is wondering how they can start building wealth, know that you can achieve it – if you work for it.
I abide by the following wealth equation:
Earning power + Saving power + Investing power
An excess of money is not the end goal, it's just the fallback plan.
If I could offer one slice of advice, it would be to stay motivated in any endeavor that you want to accomplish and keep moving forward.
There are people who make things happen, there are people who watch things happen and there are people who wonder what happened. To be successful, we have to be people who make things happen. – Jim Lovell
You can only change your life if you are willing, and it all starts with making short-term and long-term goals. Follow along and learn how you can change your future by reimagining it.
To get started accumulating wealth and your own 100k milestone – read the following articles.
---
Use the same spreadsheet I use to get a handle on the finances:
---
Get familiar with the wealth equation:
---
Understand the difference between saving and investing for the long-term:
---
Get solid motivation to stay on course with your financial goals:
---
Read more about my mission HERE.
*As with all financial and investment decisions, consult a professional. Read disclaimer

here

.
---
Join The FTD Community
---
FOR SUBSCRIBERS:
+ Access to the "FTD Library"
+ BLOG UPDATES 1-2X A MONTH
For more information, read the privacy policy.
---
Did you hit any new milestones this year? Do you plan on hitting a milestone by eoy? Please share below!
---
Photo cred: Pixabay
Last edit 5/10/2018