Please note that this article contains affiliate links, read disclosures here.
---
I am always interested in learning about the tools people like to use to manage their finances, if any at all.
It would drive me bonkers if there was no organization within my finances because I am essentially the Chief Financial Officer (CFO) of my household.
I need to know the big picture and the day-to-day numbers in order to successfully manage my money.
I'm sharing the financial tools I use most frequently and essentially providing information on why they have become mainstays.
Oftentimes, I won't use a certain tool for its full function.
For example, with budgeting, I have an alternate method and process that works for me.
Alternatively, I have tools for redundant purposes, which you may find relatable!
---
Mint by Intuit
Mint is the app I open most frequently.
It is my go-to in terms of reviewing my balances at a glance.
I only use Mint for the overview portion to get a full picture of all my accounts related to checking, savings, and investments.
From my experience, I have been able to add all my accounts to the platform with ease.
Mint has a multitude of capabilities. It's a good option if you would like to manage your spending, track and pay bills, budget your finances, along with being able to review your full financial picture. If you are just getting started tracking your money, Mint is a great option.
It's also useful for accessing information that you can retrieve all in one place.
Let's say you want to have a view of all your dividends received. You can easily do a search and it will pull up ALL dividend transactions. Through the desktop version, you can export all the transactions to an Excel file, which provides for ease in recording balances. How nice is that?
Summary of why I use Mint:  checking, savings, investments overview of balances
---
Personal Capital
Personal Capital is my go-to for only my investment accounts.
This includes 401k, IRA's, taxable accounts – anything pertaining to early and full age retirement.
I do not use it to track anything in my cash equivalent accounts, such as checking and regular savings.
I check it a few times a week, and the redundancy here is that it gives me the same balance information as Mint does at the investments level (but that's to be expected).
Though I only use the free service to track my investments, Personal Capital does have a budgeting function that they released recently.
If you are seeking an automated budgeting tool, this one might fit the bill. Additionally, if you are interested in tracking ALL your accounts, then Personal Capital can accommodate that.
Personally, I like Personal Capital as another view for my investments because it has an analytical interface, and let's face it, it's quite appealing.
I'm able to view the effect of my investments in graph form and the allocations and diversification for my holdings.
Cash flow can also be tracked, as you can view from the visual below.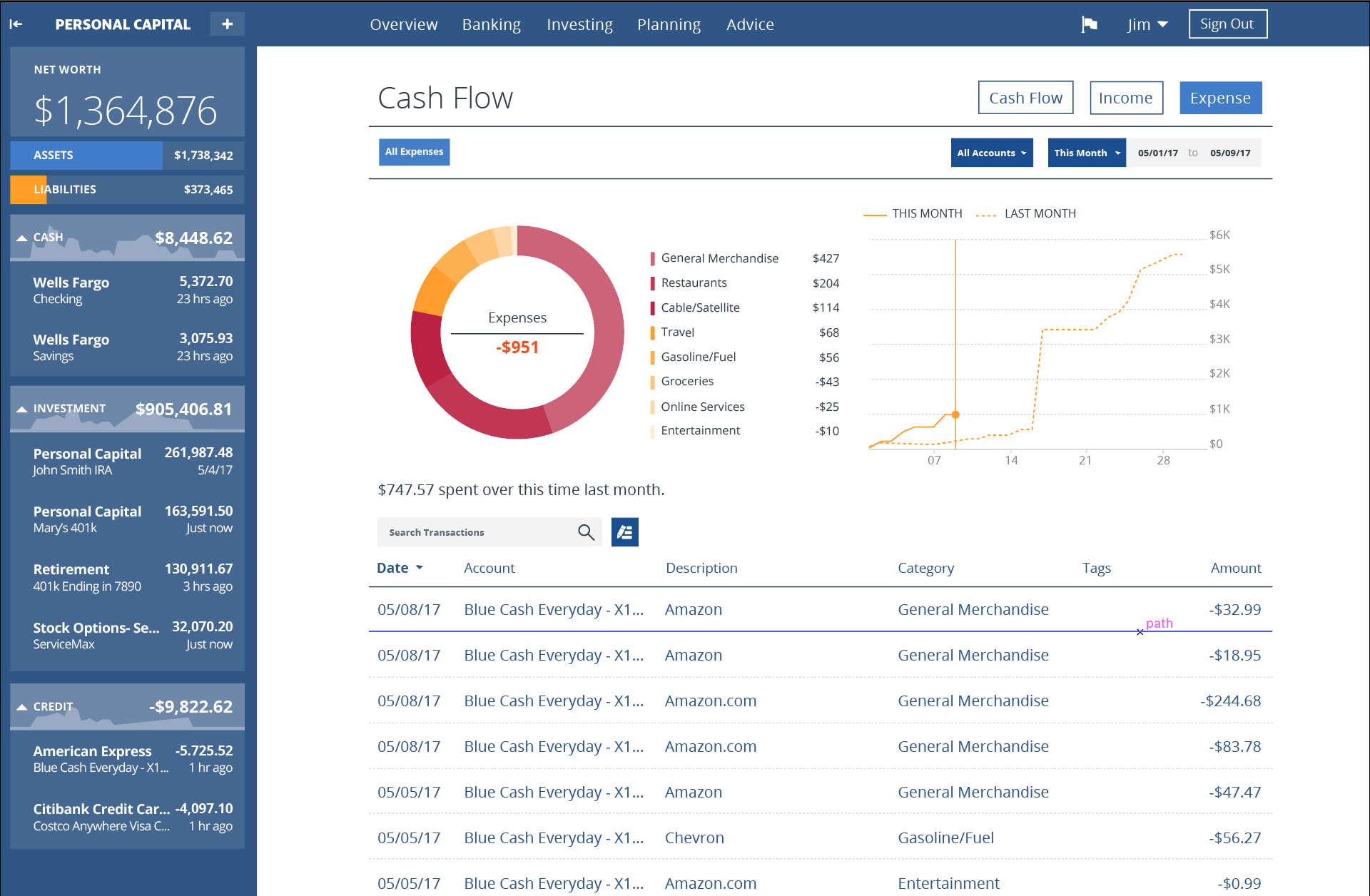 The view below is for the Retirement Planner.
The tool recently rolled out in the app and you can believe I used it to measure my retirement viability. It worked wonderfully for me, feel free to try it yourself – Retirement Planner.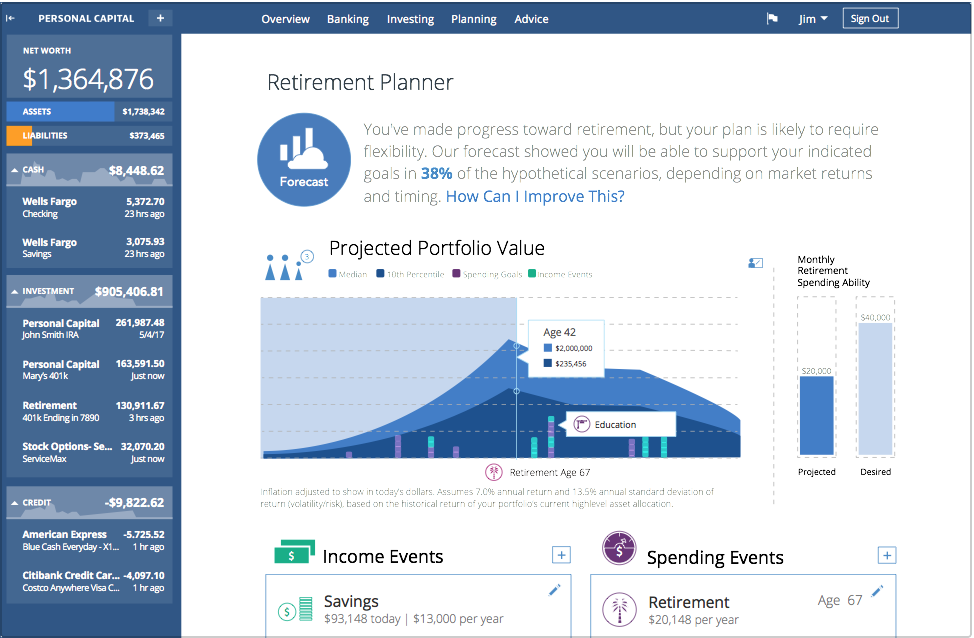 Summary of why I use Personal Capital:  investments overview and analytics
---
---
SigFig
Get it, SigFig – Significant Figures.
It's certainly a clever name. SigFig is very similar to Personal Capital due to the analytical tools provided for investment purposes.
It provides performance related information with daily movers and a portfolio breakdown.
SigFig also provides free portfolio tracking and analysis.
I use SigFig mainly through the widget that you can add to your cell phone. When I swipe right, it provides me with my full portfolio balance and the daily change for the DOW, S&P, and NAS, as well as the daily movers. I normally check throughout the day for information as to if the market is up or down for the day.
Summary of why I use SigFig:  investments overview and analytics
---
Credit Karma & Credit Sesame
I use both Credit Karma and Credit Sesame in order to view my credit score at any time – it's FREE!
I normally check my credit score once a month.
There is a set date/time that the score resets, and I get email alerts, but I generally just check when I think about it. Using one of these services will be helpful to track your credit score on a regular basis and also be able to determine what may be affecting it.
Both tools provide credit monitoring and alerts, which is great if you forget to check your score every so often.
They both provide data from a couple of the credit reporting agencies (ie. Transunion, Equifax or Experian), so you can readily compare your reports for each agency.
→ If you want to learn more about credit score fundamentals + tips to boost your score, check out my article!
Boost Credit Score: A Guide To An Important 3-Digit Number
Summary of why I use Credit Karma & Credit Sesame:  monitor my credit score and check for unusual activity
---
Microsoft Excel
Excel is the only tool I use for budgeting, tracking expenses, and various other calculations and recordings.
Using Excel allows me to personalize how I want my budgeting and tracking to look and function. Excel is easy to use and enables you to set up rows, columns, charts, and make it applicable to your situation.
For instance, the budget and tracking spreadsheet I provide as a free download is what I currently use for my needs. It is incredibly helpful.
You can check out more specifics and get your own copy using the link below.
Budget Tracking Spreadsheet – available for Excel & Google Sheets
Learn more about the Budget + Tracking Spreadsheet
There are other spreadsheet tools out there if you are unable to get access to Excel. Some of the alternatives are Google Sheets, Numbers for Mac, Apache OpenOffice, and LibreOffice.
Google Sheets is very similar to Excel. You can access it through a Google account. It provides you with a FREE alternative to Excel and you get most of the same capabilities.
Summary of why I use Microsoft Excel:  budgeting, expense tracking, cash flow, stock, and balance tracking, analysis, and summary
The Bottom Line
That's a rundown of the tools I use on a frequent basis.
It has been a game changer to have quick access to all my accounts with a swipe of a finger. I remember early on when I used to have to log-in to each account to get all my info. What a pain was that!
Using financial aggregators such as Mint and Personal Capital cuts down on having to manually check on each account. Now, checking all my accounts is SO simple. I can catch a discrepancy early on to alert the entity of the issue and move on with life.
It's important to note that if you are just starting out, use what works best for you. I found that I like all the products and services I noted in this article, but I only use a fraction of what is actually provided within the app.
As long as you keep this in mind and are eager to start managing your financial health, you are on the right track!
Read more about my mission HERE.
Join The FTD Community
---
FOR SUBSCRIBERS:
+ Access to the "FTD Library"
+ BLOG UPDATES 1-2X A MONTH
For more information, read the privacy policy.
---
Looking for finance + lifestyle resources?
Check out my resource page for more offers!
---
I'm curious to know – what financial tools do you use that I must know about?!  Please comment below!
---
Photo cred: Pixabay
Last edit 5/17/2018
SaveSave